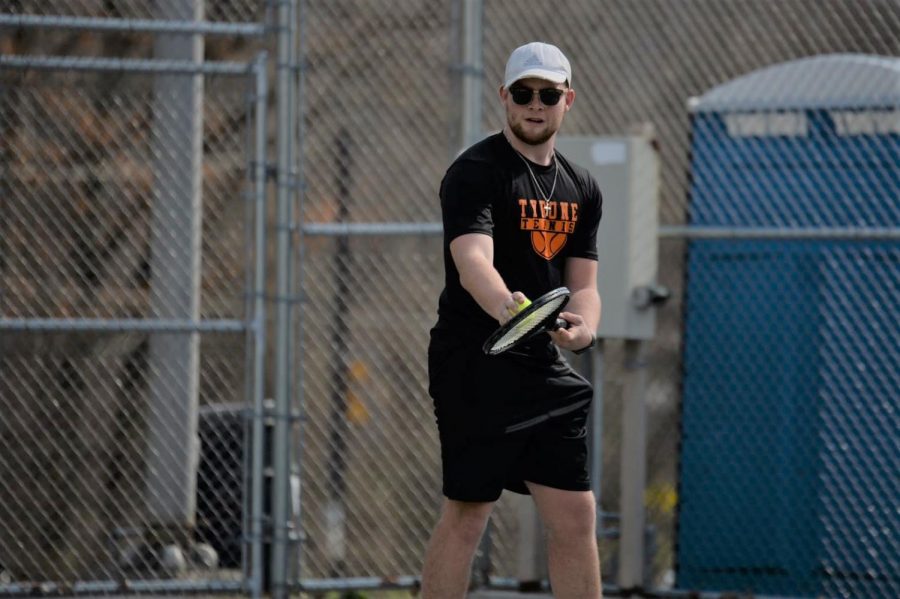 Name: Nick Lewis
Sport: Tennis
Grade: 12
Accomplishments:
Nick has been Tyrone's number one singles player all season. He currently has a singles record of 5-4, and is undefeated in the Mountain League. He also won a three-hour match earlier this season.
Head Coach Randy Irvin's quote:
"Nick is a very talented, athletic, hardworking, and smart tennis player.  Nick does a great job of making adjustments to his competition so that he can beat them.  Nick is a great team player, a great role model for the younger players, and he is just a joy to coach."
Eagle Eye: How did you first get involved in this sport?
Nick Lewis: "I joined my freshman year with Dean Grassi just to try something new, and it ended up being a lot of fun."
EE: What other sports do you play?
NL: Football, 4-square, Rubix Cube, and Candyland Tournaments.
EE: Favorite professional sports team?
NL: Pittsburgh Steelers
EE: Favorite professional athlete?
NL: TJ Watt
EE: Who do you admire the most? Why?
NL: "My parents and siblings because they are all very supportive in everything I do."
EE: Favorite band /musician?
NL: NF, Jack Harlow, Jermey Zucker, and Zac Brown Band.
EE: Favorite movie/show?
NL: Forrest Gump or Wreck-It Ralph.
EE: Favorite food?
NL: "A classic wings and fries combo."
EE: What advice would you give younger athletes?
NL: "Find the balance between taking a sport seriously and also having fun while doing it."
EE: What are your future goals?
NL: "Graduate Penn State with a master's degree in secondary education and become a high school principal someday."