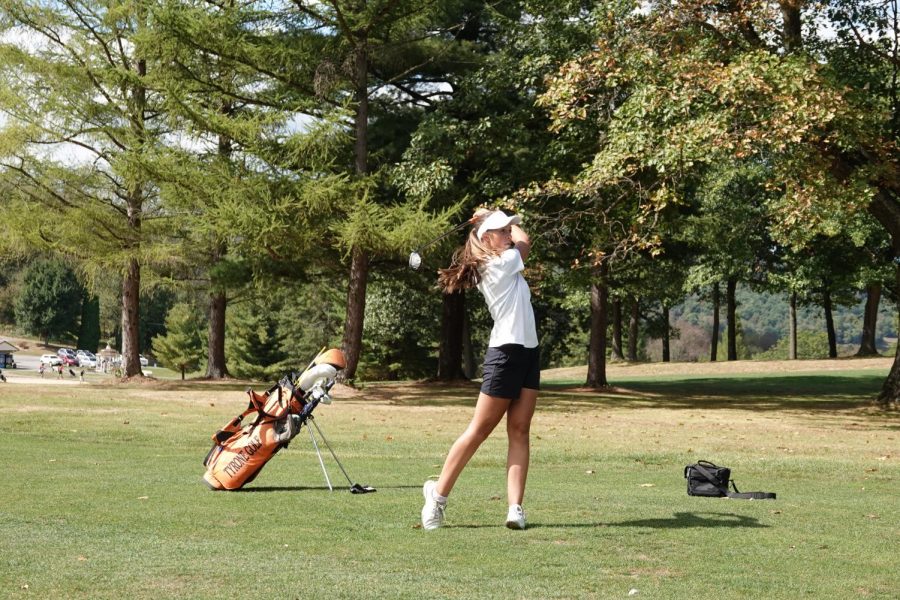 Tyler Beckwith
Name: Cassidy Miksich
Sport: Golf
Grade: 9
Accomplishments: Cassidy Miksich is a front runner on the Tyrone golf team and shot a 83 on Friday to capture her first girls AA District 6 Golf Championship title. Miksich's district championship was only the second girls title in school history (Olivia Stever) and the first championship for any Tyrone athlete in any sport for the 2019-2020 school year.
Eagle Eye: How did you first get involved in this sport?
Cassidy Miksich: "When I was four, my parents took me to a yard sale and I begged them to buy me golf clubs. I fell in love with it and have played since then."
EE: What other sports do you play?
CM: "I used to play volleyball, then quit for golf."
EE: Favorite professional sports team?
CM: "Pittsburgh Steelers"
EE: Favorite professional athlete?
CM: "Rickie Fowler"
EE: Who is your hero? Why?
CM: "My hero is my dad. He has always believed in me, no matter how crazy the idea sounded. I know he has my back and I can trust him through whatever I do."
EE: Favorite band/musician?
CM: "Kane Brown"
EE:  Favorite movie?
CM: "Only the Brave"
EE: Favorite food?
CM: "Tacos"
EE: What advice would you give younger athletes?
CM: "Always strive for your goals. Many people won't believe in you, but as long as you believe in yourself you can do amazing things."
EE: What are your future goals?
CM: "Attend college and play golf through college."