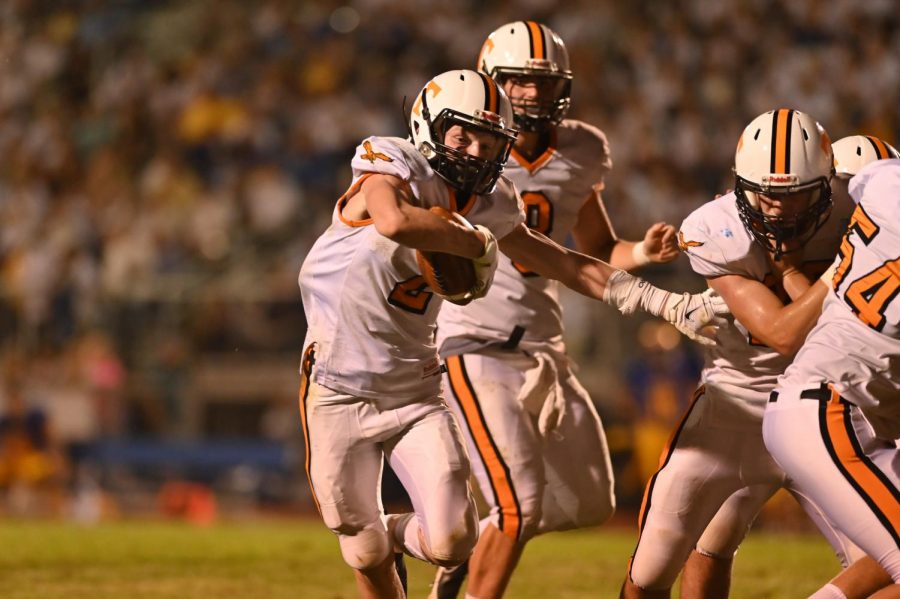 Ashlynn McKinney
Name: Brady Ronan 
Sport: Football 
Grade: 10
Accomplishments: Sophomore Brady Ronan leads the team in touchdowns, scoring two in the Eagles 21-0 win vs. Bellefonte last week. He also plays defense and has two interceptions and a fumble recovery. 
Eagle Eye: How did you first get involved in this sport?
Brady Ronan: When I was younger I played Madden and I thought it was really cool so I gave it a try.
EE: What other sports do you play?
BR: Basketball and Track 
EE: Favorite professional sports team?
BR: Cincinnati Bengals 
EE: Favorite professional athlete?
BR: Christian McCaffery 
EE: Who do you admire the most? Why?
BR: I admire Jesse Jones because he was an absolute beast. 
EE: Favorite band /musician?
BR: Drag & Drew or Weeestony 
EE: Favorite movie/show?
BR: Step Brothers
EE: Favorite food?
BR: Chicken tenders and fries 
EE: What advice would you give younger athletes?
BR: Always outwork everyone. There is always someone who is working hard you need to work harder than them. 
EE: What are your future goals?
BR: I plan to go to college.