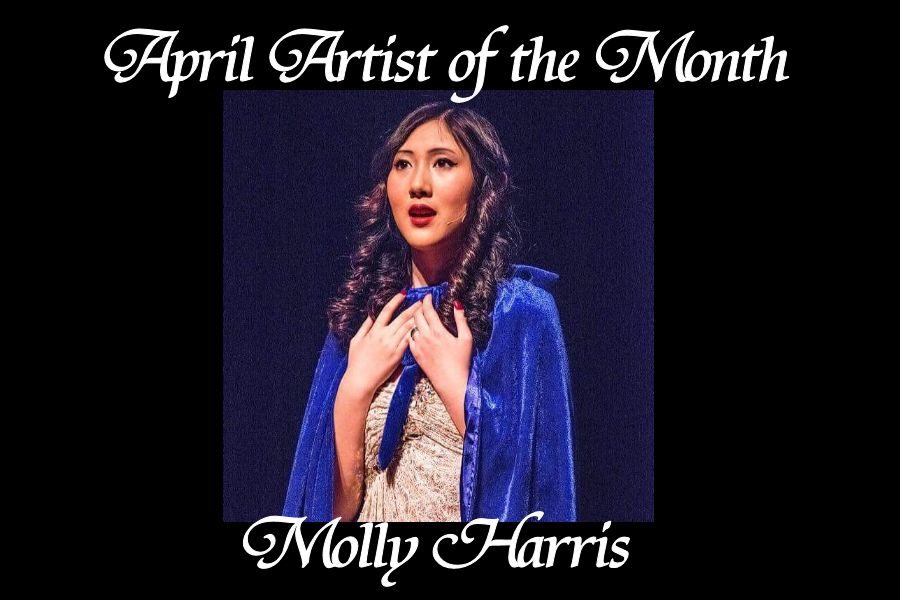 As accomplished a singer as Molly Harris is, most people would assume that she has been taking voice lessons all her life. But what makes Molly's talent even more impressive is that she just started taking formal vocal lessons last November. Of course, coming from a musical family Molly has had a lot of practice growing up.
"She's been performing since she was an itty-bitty baby," said Tyrone choral director Laura Harris, who also happens to be Molly's mom.
According to Molly, singing is special to her because it is something she can share with her mom.
"[Molly] has grown into a very talented young lady and I love being her choral teacher, but I love being her mom even more," said Mrs. Harris.
"Molly has a beautiful voice and I love hearing her sing. She's really talented and going to go far," said sophomore McKenzie Johnson.
Recently Molly began taking her singing much more seriously and attends lessons almost every week.
"[Molly] is constantly practicing, constantly learning. She researches music, she learns it on her own. She never stops, she's always pushing herself to be better.  I'm prouder than words can say. I'm so over the moon with everything she's accomplished and what I know she's still going to accomplish," said Mrs. Harris.
This year Molly qualified for the District Chorus Festival, where she earned second chair and moved on to regionals. Regionals were held at Altoona Area High School on Friday, March 18th.
Molly was very excited to qualify to regionals and had a great time. "Choral festivals are always an amazing experience and I love being in a room filled with people who love to sing as much as I do," said Molly.
Unfortunately Molly did not move on to the state festival, but she gave it her best shot and got to experience something she loves at a higher level.  Being a sophomore, she still has two more opportunities to make it to states.
"I felt like I had a decent audition, even though I didn't make states, I'm still proud of myself and it gives me a goal to strive for next year," said Molly.
"I have no doubt that she will be selected to sing in the PMEA All-State Choral festival before she graduates from High School," added Mrs. Harris.
Molly has had many accomplishments through her singing career. She's made it into the POPS Extension choir and got a solo for the county festival. Molly has also performed in both school musicals in her high school career.
In this year's musical Molly performed in all of the large group ensemble numbers and the duets "Anything You Can Do, I Can Do Better" and "All I Ask of You" with Sean McGovern, "A Boy Like That/I Have a Love" with Haley Butina, "It's Raining on Prom Night" with Sarah Isenberg, and "Wishing You Were Somehow Here Again" as a solo.
"The performance went really well," said Molly, "my favorite part of the experience was singing with so many talented people."
Harris and fellow accomplished musician sophomore Grayson Putt even incorporated their love of music into a recent school project.  They won the local History Day competition with a performance piece on the jazz great Ella Fitzgerald.
"Her voice is honestly probably the best I've ever heard. If she wants to, it's very possible to go just about anywhere with that talent," said Putt.
Other members of POPS Extension agree.
"[Molly] has a really great tone quality and she puts forth immense amounts of effort into every performance that she does," said senior POPs member Gina Gavazzi.
After high school, Harris would like to attend college and major in forensic psychology, "but I definitely want to continue singing throughout college," added Harris.