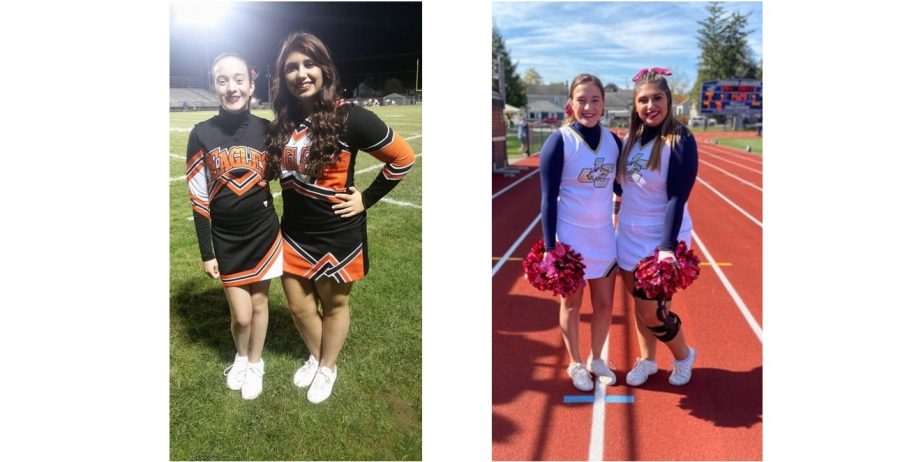 Photos courtesy of Kendra Walker
Tyrone alumni Kendra Walker (2016) and Olivia Watson (2019) first crossed paths in the 2015 when Walker was a senior captain on the Tyrone Cheerleading Squad and Watson was a freshman.
This year the two former Tyrone cheerleaders are reunited in much the same roles as in high school. Senior and freshman cheering together on the same squad; this time at Juniata College in Huntingdon. 
"I was really excited when I found out that Olivia was coming to Juniata," said Walker.
Since cheering together in college, the Tyrone grads have become much closer.
"Kendra was so nice and was a great teacher, which is probably why she wants to be one now," said Watson, "She pushed the girls to do their best and helped when a stunt was going wrong or a cheer looked sloppy."
Walker has become good friends with Watson and sees her more as an peer than a understudy.
"In high school, as a senior it is a little harder to become close with a freshman. Now that we're in college, the age gap doesn't feel as large. We're one big happy family, so she's one of my sisters," says Walker. 
Watson said it was very helpful to have a familiar face on her college cheer squad and she is thankful for the opportunity to get to know Walker better.
"I didn't really know Kendra too well in high school but now she's my base sometimes, and sometimes I base with her. She knows my faults and issues and that helps the coaches correct me; it's nice having someone who knows how I stunt and cheer," says Watson. 
Walker, a senior Spanish and secondary education major, is nearing the end of her college career and will graduate in May.  She has enjoyed her Juniata experience and, like a lot of college students, is not quite as eager to move on to the next phase of her life as she was in high school.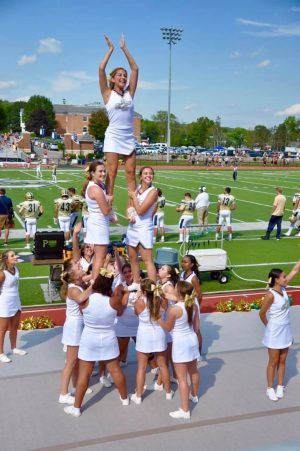 "In high school, I was so ready to go to college and start the next chapter of my life," said Walker, "Now, I am definitely ready to go out into the real world and teach, but I'm not as ready to leave the amazing friends, coaches, and staff that I've met at Juniata."
Like Walker, Watson is also enjoying her experience at Juniata, but from a different perspective. 
"I love Juniata, the campus is super pretty and everyone is so kind," said Watson.
Watson is taking introductory courses and is currently majoring in biology.
Both agree that college is a great experience, but it requires a lot more dedication and work than high school.
"In high school, you have the same class [everyday], but in college you only have class twice or three times a week. You are expected to prepare and do a lot more work outside of class so that the time with the professor can be used effectively," says Walker.
Watson agrees that college requires a lot more independence and personal responsibility than high school.
"Everyone expects you to have it together, including yourself," says Watson. 
Both are grateful for the knowledge and experience that they gained on the Tyrone cheer squad.
"It really made me appreciate the background that I had. Without it, I wouldn't have been able to do half of the stunts that I'm able to do now. It also makes me miss cheering under the lights," said Walker.
As a senior, Walker has tried to help all of the underclassman, including Watson.
"I try to make it known to all the underclassman that I am available as a resource for help with academics, campus life and cheer," said Walker.
Watson also has some advice for her former high school teammates.
"High school cheer is for enjoyment but I feel like a lot of people make it out to be so serious. Yes, being professional on the field is important,  but you go through high school once. Enjoy it while you can, and don't be so hard on yourself or others," said Watson.