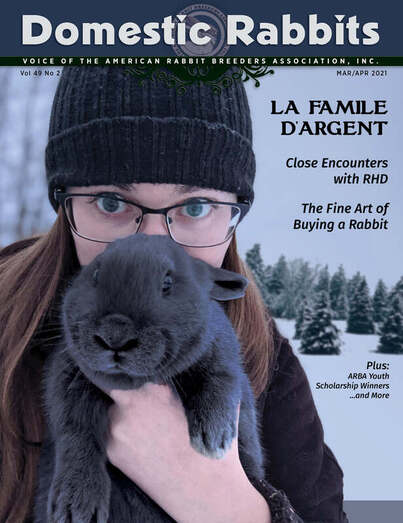 Image provided by Samantha Sessamen
There are over a million households in the US with pet rabbits, making them one of the country's most popular domesticated pets after dogs and cats. For the past ten years, Tyrone Class of 2012 Alumna Samantha Sessamen has been raising, showing, and selling many domestic breeds of rabbits.
Sessamen's dedication to rabbitry was honored this spring when she appeared on the cover of the March-April 2021 edition of the American Rabbit Breeders Association's (ARBA) magazine Domestic Rabbits, with her pet New Zealand rabbit.
"The editor of [Domestic Rabbits] magazine saw my photo and asked to use it for an article about purchasing rabbits. A few weeks later, she surprised me by saying I was on the cover," said Sessamen.
Sessamen began raising rabbits in 2012 with a Californian and New Zealand breeding trio. That year she also attended her first ARBA rabbit show and soon after established her own rabbitry.
"I've raised over 20 of the ARBA recognized breeds, but have since narrowed my focus to New Zealand rabbits," said Sessamen, "I compete all over the US, but mainly on the east coast as I reside in New York."
Sessamen's love of animals and agriculture education began in fifth grade when a bright green flyer promoting the local 4-H community club caught her eye. She was eager to sign up, having been raised with stories of her father's time in the organization.
Sessamen was involved with 4-H for nine years and worked on multiple projects. She raised and showed market goats, production and performance horses, market sheep, market lambs, meat rabbits, show rabbits and breeding sheep.
When she was in ninth grade, former Tyrone Ag instructor Bill Harshman introduced Sessamen to the Tyrone Ag program. Sessamen took advantage of every Ag class the school offered, did several FFA Supervised Agriculture Experiences (SAE) projects, participated in  Career and Leadership Development Events (CDE), and achieved the American FFA Degree in 2013.
"FFA and 4-H have affected my life and really molded who I am today," said Sessamen, "Prior to joining the programs, I had little motivation, no focus, and really no idea what I wanted to do for myself. These programs have offered me so much in everything from record-keeping, leadership skills, time management, and much more."
After graduating from high school, Sessamen attended Penn State University for agricultural science. She also founded the "Blair County Bounding Bunnies 4-H Club," the first 4-H rabbit and cavy club in the county.
"I am very passionate about the 4-H program, and as soon as I aged out of the program, I became a volunteer to start my own 4-H club. This club was for the youth in Blair County to learn about rabbits and cavies while developing critical life skills," said Sessamen, "Now, I wouldn't recommend a full-time college student who's also working full-time to start a 4-H Club, but I poured my heart and soul into it and really enjoyed seeing those kids grow with their projects as well as themselves."
Sessamen had to step back from the club when she was offered a job as a Penn State 4-H Extension Educator in McKean County, where she worked for three years. She left that position to become a secondary science teacher for the Port Allegany School District, where she currently teaches earth and space science, general science, astronomy, and environmental science to students in middle and high school.
"I left the Penn State Extension because I just wasn't getting enough face-to-face time with the youth," said Sessamen, "I only saw a bulk of the members about once a month. I needed more. I wanted to see these kids grow and develop knowledge daily, and I am thankful to have come across a teaching position."
Sessaman recently imported four Golden Glavcot rabbits from Essex, England to help improve breed numbers and to get the breed recognized by ARBA and, after several years of dedication, she is on the verge of advancing from a rabbit registrar and becoming a certified rabbit judge.
"I really want to become a judge to expand my knowledge on the rabbit hobby," said Sessamen, "I really like to learn new things about them, making new connections, and educating people about this wonderful animal used for food, fur, and fancy."