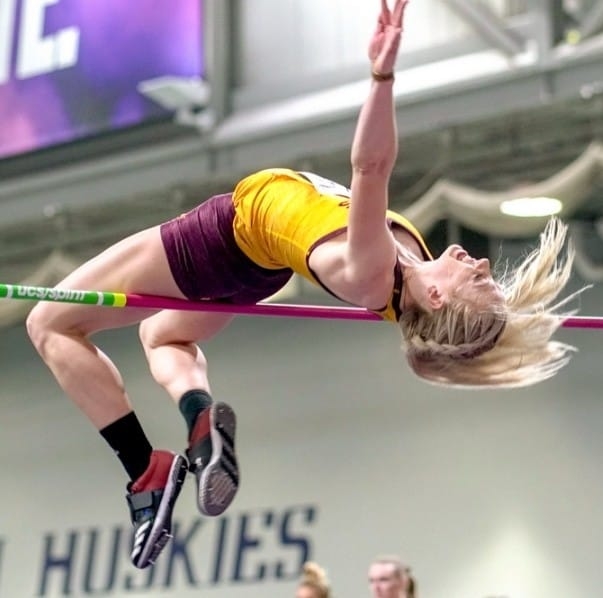 Photo courtesy of Erika Voyzey
Tyrone native and 2016 TAHS grad Erika Voyzey, one of the most decorated athletes in Tyrone High School history, is still flying high.
Voyzey is looking forward to graduating from Arizona State University this spring with a degree in aerospace and aeronautical engineering and beginning her next chapter in life.
Voyzey excelled in high jump throughout her entire high school career. She is the only three-time PIAA State Champion in Tyrone history, winning the state title in high jump in 2014, 2015 and 2016. She also earned a gold medal at the prestigious Penn Relays in Philadelphia in 2016.
After receiving a scholarship to continue her athletic and academic career at the University of Miami in Miami, FL, Voyzey competed with the Hurricanes for two years, where her team won two ACC championships.
She then transferred to Arizona State University before her junior year and will complete her undergraduate studies at ASU this spring.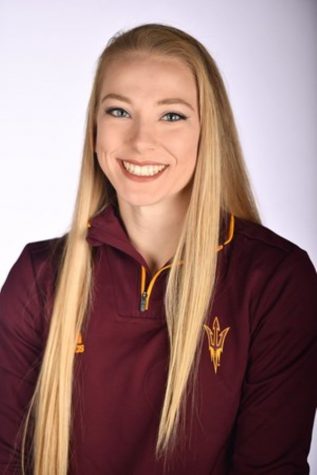 "I transferred [from Miami] to ASU because I really wanted the best out of my collegiate career. I dedicated my life to academics and athletics, so I wanted to incorporate both into my university path," said Voyzey.
Voyzey found balancing the rigors of a D1 athletic training program at Miami with the rigors of her academic program became too difficult to maintain.
"Miami gave me a lot of great experiences. I developed an even harder work ethic and drive to succeed. Track went really well at Miami, and I helped win two championships. School was going great, and the classes were really fun," said Voyzey, "but when it came down to it, I was losing so much sleep every night and pushing myself so thin that I couldn't keep up the path that I was on."
Voyzey has enjoyed her move to the southwest and competed at ASU last year but decided to end her collegiate athletic career early to focus on her studies during her senior year.
But that doesn't necessarily mean her athletic career is over.
"You might see me compete in track again," said Voyzey, "Who knows. I'm just trying to enjoy life and whatever comes on my way athletically and academically. I don't think I'm missing out on any breakthroughs this season."
Voyzey had a great experience during her athletic career and made many close friendships with teammates from both Arizona and Miami.
"I have absolutely loved my teammates from both schools. They have taught me a lot about the person I want to be. The women from Miami are strong and empowered. They are so unapologetically themselves and I admire them for that. My teammates from ASU welcomed me with open arms. Everyone was so nice and it was a great environment," said Voyzey.
Although Voyzey considers her year to have ended on a good note, she took time to reflect on her college career.
"I think I needed a break, and time not competing has let my love for the sport rekindle. I'm more excited about the future and taking the present stride for stride but still accomplishing goals for myself," said Voyzey.
Her plans after graduation are to enter the workforce and to go to graduate school.
"Continuing my education is something I really strive for. You'll eventually call me Dr. Voyzey, and I can't wait for that day. Eventually, I'll do a startup in aerospace–but that's an idea reserved for my future self," said Voyzey.
Like thousands of other college seniors, COVID-19 brought an abrupt end to her year. It's been tough for Voyzey, but even tougher for her former teammates who were looking forward to the spring track and field season.
"The virus has hit [my former teammates] really hard, but they're still working. They don't have a season to compete and some of my friends are really down about it, but a lot of them have a positive outlook. The results they were looking forward to this year will manifest next year, and I have no doubt that they'll do even better. There's motivation from wanting to win but having to wait for it," said Voyzey.
Voyzey had some advice for any current Tyrone students hoping to compete in collegiate athletics, especially at the division one level.
"Be ready to work hard–especially in D1 sports. You will be challenged mentally as well as academically. Sometimes it's not always how you expect being a college athlete would be," said Voyzey, "The best thing you can do is take care of yourself and be ready for change and challenges. If you have an open mind, you'll be really grateful for the experience."