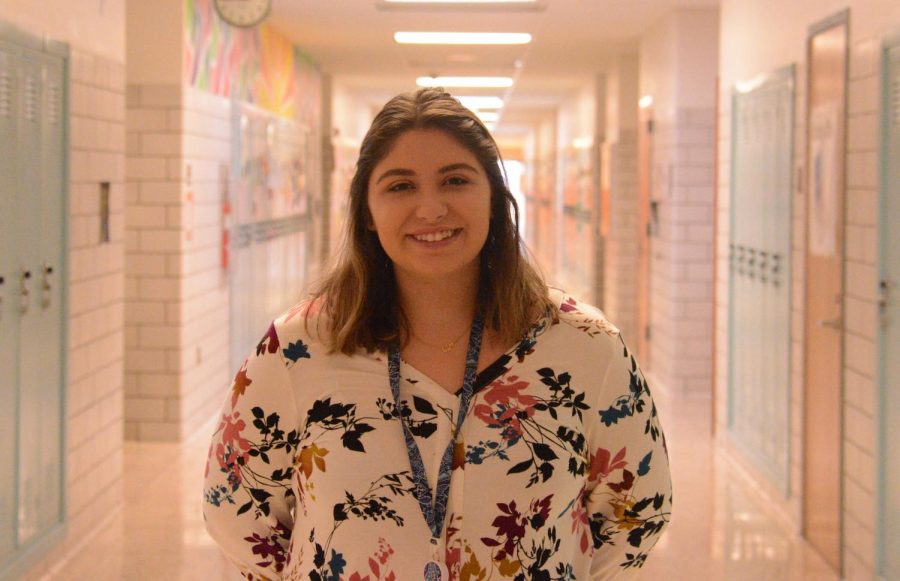 Cate Baran
Just four years ago Juniata College senior Kendra Walker sat in Mrs. Holly Sechler's Spanish 4 class as a student. Today she back in that same classroom, but this time her view is from a completely different perspective: at the front of the room as the teacher.
A 2016 TAHS grad, Walker took four years of Spanish and even peer tutored Sechler's class throughout her senior year.  She is now doing her student teaching in her old high school, with her high school Spanish teacher.
The situation is unique for Sechler too, as Walker is the first former student that Sechler has had as a student teacher under her guidance.
"I'm very happy to have her here," said Sechler. "It's great to see a student of mine who took four years of Spanish continue to pursue her passion."
Walker has really enjoyed working with Sechler and getting to know her in a different way.
"We never had the chance to get to know each other [in high school]. [Mrs. Sechler] and I work well together which helps me pick up on little tricks she does," said Walker.
One extra challenge Walker has run into is having a prior relationship with the teachers she is working with and some of the students she is teaching.
Some of her current students are family friends so it can be hard to find a balance in the teacher-student relationship. It's also been interesting for her to be able to develop a professional relationship with many her former teachers.
"One of the biggest differences for me is being the one teaching and navigating how rules have changed and enforcing them," said Walker, "It's also strange to see teachers I've had and be almost on the same level as them."
According to Walker, what it means to be a "TAHS student" hasn't changed all that much since she left.
Her current students remind her a lot of her fellow classmates.
Walker's favorite part about student teaching is the constant practice that it provides.
"I learned about teaching Spanish for three years but didn't actually get to practice it. With Mrs. Sechler, she has had a lot of experience, so I learned so much within the past five weeks," said Walker.
Between her freshman and sophomore year at Juniata College, Walker studied abroad in Mexico for a month.
"I received a scholarship called Eagles Abroad. My trip was completely free. I took classes there and lived with a host family. The only thing I paid for was my shopping," said Walker.
The Eagles Abroad Scholarship gives students the opportunity to continue learning a foreign language through first-hand experiences and engage in the culture.
She also traveled to Seville, Spain for an academic year.
Walker is the only student graduating from Juniata College this year with a teaching degree in a foreign language. After graduation, she hopes to find a teaching job close to home. She eventually wants to go back to school and get her Masters Degree in hopes of teaching at the college level someday.