Former TAMS Teacher Adam DePiro: Still Our Hero
When former Tyrone Middle School social studies teacher Adam DePiro was diagnosed with cancer back in 2012, current TAHS senior Harley Stimer-Heywood was in seventh grade.  He still remembers how he and a group of other middle and high school students made shirts and organized a fundraiser to show their support.
"I remember that we stayed up late that night working on the shirts, hoping that they would dry fast enough to be worn the next day," said Stimer-Heywood.
Now five years later, many of those same students have either graduated or are now seniors.  While most of them haven't seen Mr. DePiro in years, they still fondly remember their former seventh-grade history teacher.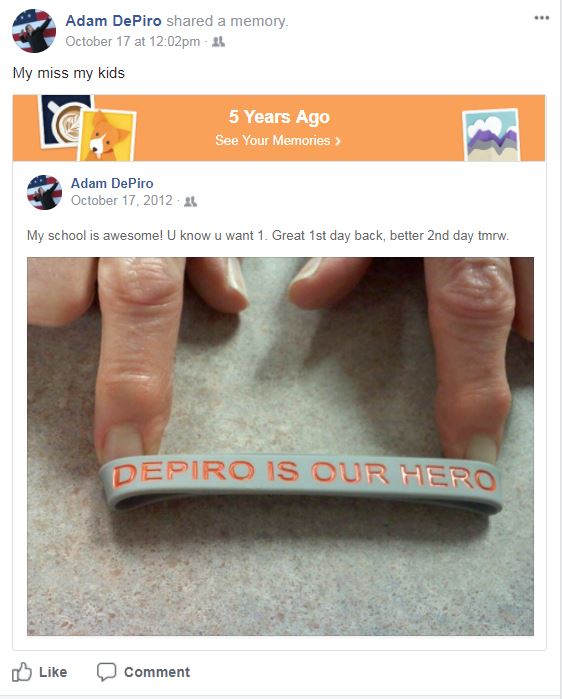 "Mr. DePiro is awesome. One of the nicest teachers I had ever had," said 2017 TAHS grad Hilari Parsons, "He was always encouraging and cared about each and every one of his students and wanted them all to succeed. His lessons were engaging and it was in [his] class that I started to love history."
After leaving Tyrone in 2013, DePiro went on to complete his Masters in Education from Saint Francis University, earning their "student of the year" award.  He is now at Mount Aloysius College where he teaches history to college students.
But in some ways DePiro feels as if he never left Tyrone. He still sees many of his old students who are now enrolled at Mount Aloysius.
"The Mount is a strange combination of my old middle school and a new pathway to a new horizon," said DePiro.
One of the students that DePiro taught in both middle school and college is Mike Cherry, who was a student at TAMS and recently graduated from Bellwood. "When I first met Mikey, he was in fifth grade helping me win the second place medal in the SOAR Olympics.  The next time I saw him he was one of the members of my class [at the Mount]," said DePiro.
DePiro's personal favorite memory of his time at Tyrone Middle School was when he raced English teacher Anne Maddox for silver in the first annual SOAR Olympics.
Tyrone 2017 graduate Kenneth McKernan still has positive memories of DePiro. McKernan remembers him being an immersive teacher and a motivational football coach. Outside of school and extracurricular activities, he also remembers him as a person he could talk about superhero movies and sci-fi conventions.  
"I went to the local Sci-Fi Valley Con in Altoona and Mr. DePiro was there dressed as a Steampunk Abe Lincoln.  It was really cool for me to see a teacher do that. He was just a really fun guy who also made learning an interesting thing," said McKernan.
TAHS grad Rae Bonsell has also seen DePiro in the local sci-fi and comic convention scene as a member of the charity group 'Gearbox Union.' 
"
It was really cool for me to see a teacher do that. He was just a really fun guy who also made learning an interesting thing"
— Kenneth McKernan
"DePiro would give fun quests that were always related to history. He was really passionate about the things he did, in and out of the classroom," said Bonsell.
Today DePiro continues his battle with cancer, describing his health as "good but not great," but through his inspirational posts on his Facebook page, it is clear that he has remained positive throughout his medical journey. 
Even if he is no longer a teacher at Tyrone, DePiro would like his students to remember not to get frustrated and that it's okay not to know something.  
Many of his students have something that they would like him to remember too: "DePiro will always be our hero!"
View Comments (2)
About the Contributors
Meghan McMullen, News Editor
Oh, hi there! My name is Meghan McMullen, I'm a senior here at Tyrone and this is my second year in Eagle Eye News. At school, I'm involved with a lot...
., Staff Writer
I am a nice person to talk to. I am involved in sports at the school including Basketball and baseball. I am a news reporter for the school newspaper....