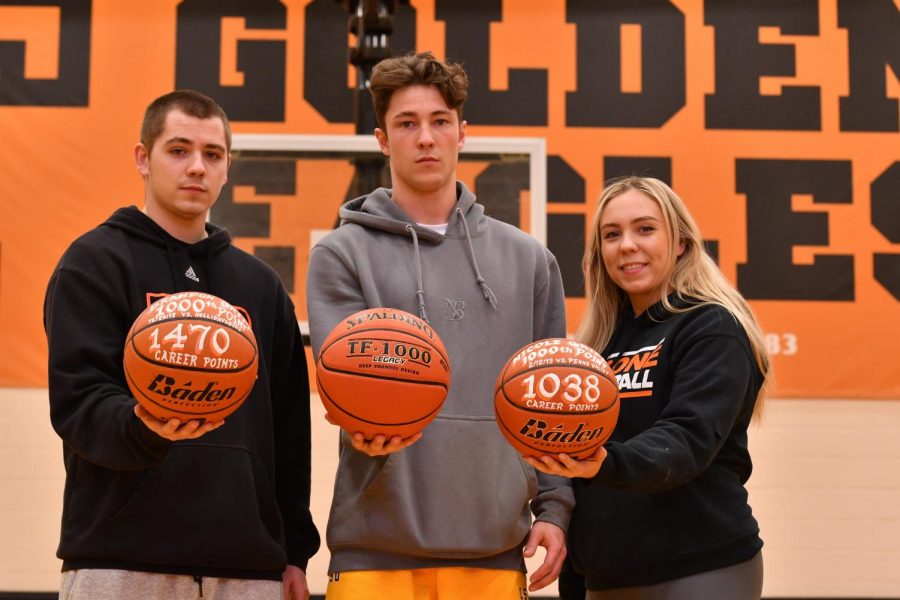 Todd Cammarata
Scoring 1,000 points in a high school basketball career is a very rare accomplishment. In Tyrone basketball history only 10 boys and 14 girls have reached this celebrated milestone.
The fact that three of the players in this exclusive club grew up under the same roof is almost unbelievable.
This past season current Tyrone senior Damon Gripp joined his big brother Brandon (Class of 2014), and sister Nicole (Class of  2013), on Tyrone's elite list of career 1,000 point players.
"I feel like this doesn't happen very often. This just goes to show how we all took basketball seriously and worked hard day in and day out," said Brandon Gripp, who scored his 1,000th point for the Golden Eagles in 2014.
The Gripps inherited their love of the game from their dad, long-time Tyrone boys varsity head coach George Gripp.
"Basketball has always been an important part of George's life and the kids just picked up on his love of the game," said George's wife, Sharon Gripp.
George can remember taking all three of his children to practice with him when they were little.
"They were all introduced to the game at a young age," said George, "Nicole and Brandon would tag along with me when I had practices or open gyms.  Damon would watch his older sister and brother play games, then he also would want to follow me to the gym whenever he could.  All three showed interest early, and they all had a desire to be the best player they could."
Sharon played the all-important supporting role of "basketball mom," keeping monthly calendars with everyone's practices and games so the family could stay organized. 
"At any given time, we had three kids with multiple leagues, with summer travel basketball on top of George coaching varsity basketball year-round," said Sharon, "The busiest time was always from December through March when we usually had four to eight games a week."
A schedule like this would probably be too much for most families, but for the Gripps it was all part of growing up in a basketball family, and they wouldn't trade it for anything.
"I vividly remember going to a junior high tournament in Clearfield to watch Damon play two games. Then my mom and I drove to Penn State Altoona to watch Nicole play college basketball. Then we drove to Tyrone to watch Brandon play in a varsity doubleheader against Tussey Mountain. Watching all three of our kids play at three different levels of basketball in one day was pretty awesome," said Sharon.
All those miles of driving between practices and games have paid off – not only were all three Gripp siblings 1,000 point scorers, but they were also all first-team Mountain League All-Stars. Damon and Brandon both won the league MVP award in their senior year, and Nicole was a four-time Altoona Mirror All-Star.
Brandon is also second all-time in points and first all-time in career 3-point goals, steals, and assists. Damon is not far behind, at fourth in all-time points scored. Damon was also an all-state wide receiver in football. 
All three also played, or will play, at the collegiate level. Nicole and Brandon both played college basketball at Penn State Altoona, and Damon plans to continue his basketball career this fall at Lock Haven University.
As the youngest, Damon said he always looked up to his older siblings and wanted to be just as successful as they were during their basketball careers.
"Seeing how hard Nicole and Brandon worked on their game on their own time, I knew that I had to put myself through that as well. You need to have the right mindset to work and not just goof around with friends. Brandon really helped me at home giving me tips," said Damon.
Coach Gripp also had a big influence on his children's success on the court. He pushed them to be the best they can possibly be.
"Even though my dad was not my coach, he would always open the gym so I could shoot," said Nicole, "I wouldn't have been the player I was without my dad being there to guide me through my high school and college career," said Nicole.
All of the Gripps learned early that to be successful you have to put in the work.
"I wish people would recognize that the players that are successful put in countless hours of hard work when no one is watching," said Brandon, "My dad would always tell me that there is always someone else working harder. He deserves a lot of credit for how long he has coached, not only at the varsity level but also helping out at the YMCA and Rec Center, helping the junior high teams at the beginning of each season, and coaching both Damon and my elementary leagues and travel teams. He truly loves coaching the game of basketball."
Damon has had an incredible athletic career at Tyrone in both basketball and football and has been a role model for a lot of the younger players coming up.
"My best advice to the kids coming up is to pay attention at practice and go hard every day. You play how you practice, so take it seriously. I really want to give thanks to my Tyrone basketball team, we have been through a lot together. I played on other travel teams, but we had a special team at Tyrone," said Damon.
For Sharon and George, the records are exciting, but they were most proud of just watching all three of their children and their friends represent Tyrone High School on the court or in the field.
"They all have been blessed to be able to play with some great teammates along the way," said George, "Obviously, I am very proud of all three and what they accomplished, all three gave us a lifetime of memories."