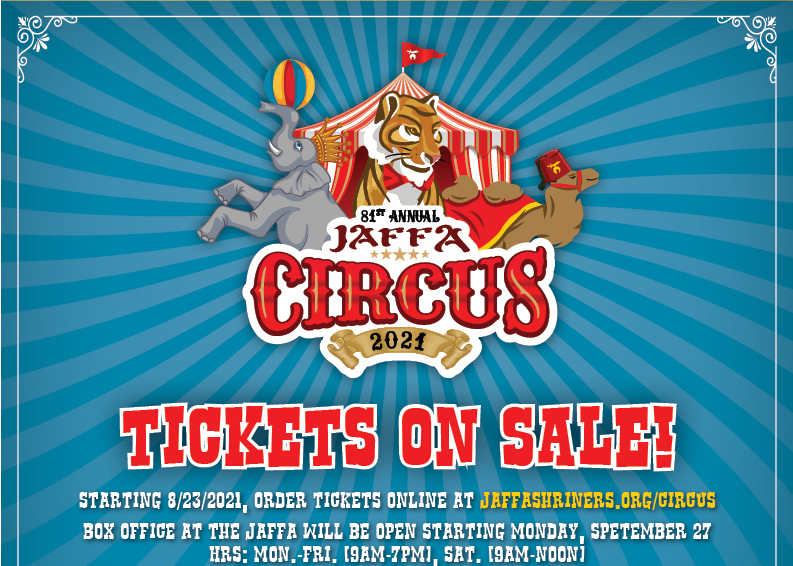 The circus is coming, the circus is coming!
The 2021 Jaffa Shrine Circus will take place next week at the Jaffa Shrine Center in Altoona, PA.
The circus has nine shows scheduled from Thursday, October 14 through Sunday, October 17.
This year, the Jaffa Shriners are offering a Buy One, Get One (BOGO) ticket special for seats above the walkway. Details and the BOGO coupon will be available in Saturday's Altoona Mirror.
A longstanding tradition in Blair County, this marks the 81st year of the Jaffa circus.
Ringmaster Billy Martin will return to Altoona and the Jaffa Shrine Circus with his troupe of international daredevils and animal trainers will amaze and entertain children of all ages.
This year's circus features the return of comedic daredevil clown Bello Nock featured in America's Got Talent and The Ringling Bros. and Barnum & Bailey Circus.
Many of the area's familiar and beloved animal acts are also returning to the Jaffa Circus, along with stunt and acrobatic acts, and of course, Jaffa Shrine's own Calliope Clowns.
Tickets above the walkway are $14 per child and $20 per adult. Premium tickets below the walkway are $18 per child and $22 per adult. Showtimes for next week are Thursday, October 14, 11:30 AM & 6:30 PM, Friday, October 15, 11:30 AM & 7:00 PM, Saturday, October 16, 10:00 AM,3:00PM, 8:00 PM Sunday, October 17, 1:00 PM & 6:00 PM.
Tickets are available online, in-person at the Jaffa Box Office, and the day of the event before the show.
Click HERE to order tickets.
"We work hard to put on a good show for our communities. We have circus stars coming from around the world to participate at the Jaffa Shrine Circus. The circus has been a long standing family tradition in our area, and it's always a great time," said Jonathan Holmes, a Jaffa Shriner, and English teacher at TAHS.
The Jaffa Shrine Circus is one of the largest fundraisers for the organization, which uses the proceeds to run and manage its facility. The Shriners are known for their philanthropic work in supporting their Shriners Hospitals.
As stated in their mission statement, Shriners Hospitals "provides advanced care for children with orthopedic conditions, burns, spinal cord injuries, and cleft lip and palate."
The Jaffa Shrine Center supports the Shriners Hospitals in Philadelphia and Erie. The Shriners Hospitals provide a patient's transportation, medical treatment, and care at no cost to the patient or their families.