2021 Yearbook Photo and Senior Ad Deadlines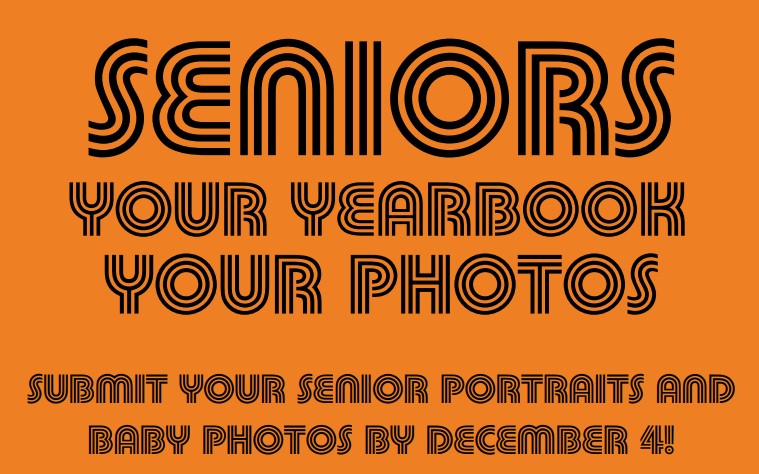 The yearbook staff is hard at work creating what will be another memorable edition of the Tyrone Eagle Yearbook. This book will be the official record of the 2020-2021 school year, and the yearbook staff wants to make sure every senior is included.
Seniors and their families can help by making sure that they meet the deadlines and requirements below for submitting senior photos and purchasing senior ads.
SENIOR PORTRAITS/BABY PHOTOS
Each senior is asked to submit two photos to the yearbook by December 4, 2020.
The yearbook needs:
One senior photo
One baby/childhood photo
Seniors who have already had senior portraits taken can submit their senior photo and baby photo to the yearbook electronically.
Click HERE to submit photos electronically.
All photos should be in high-resolution .jpg format. Low-quality images cannot be used in the yearbook.
Photos must meet the following requirements:
Photos should be professional or high-quality amateur photos.
Photos should be in portrait orientation.
Photos should be "head and shoulders" or "waist up." Space is limited, so full body shots and/or landscape photos do not reproduce well on the senior pages.
Dress may be formal or casual but must adhere to the TAHS dress code.
No excessive rips in clothing. No graphic shirts with slogans or messages.
No props of any kind, including weapons, sports equipment, or hats.
No "selfies."
For the baby/child photo: "head and shoulder" photos are preferred due to the small amount of space available for these photos.
If you do not have electronic versions of your photos, seniors can drop off photos in the Eagle Eye/Yearbook room (room 230) or mail them to the school c/o the Eagle Yearbook.
Please do not send your only copy of senior or baby photos. Walmart, Walgreens, or the Film Center in Altoona can scan and email photos at a reasonable cost.
If you do send original photos, please label each photo with the senior's name and place them in a labeled envelope. Photos will be scanned and returned to the senior when the book is complete.
What if I don't have a "senior portrait"?
Any senior who does not plan to have professional senior portraits taken can one done for FREE by Moments Photography on November 10, 2020 (picture retake day) in school.
Students are not obligated to purchase photos but Moments offers low-cost packages for any senior who would like to purchase them. Prices are as follows: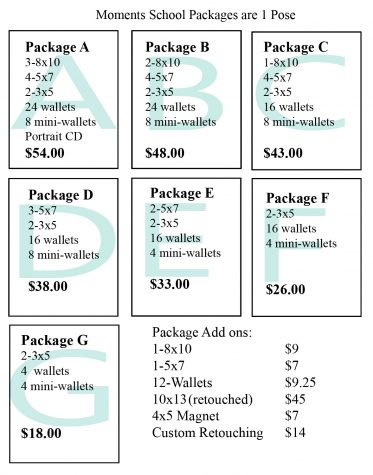 Seniors who want to take advantage of this opportunity should email the yearbook adviser, Mr. Cammarata to set up an appointment for November 10, OR  just show up on retake day and tell the photographer that you would like to have a senior portrait done.
SENIOR ADS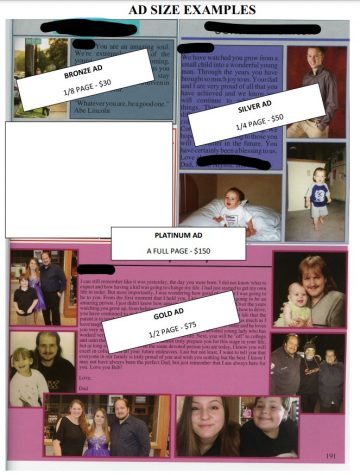 Parents and extended families also have the option to purchase a Senior Ad to honor their 2021 graduate.
Senior ads are the main source of income for the yearbook. We rely on ads to keep the cost of the book down and to maintain our cameras and equipment.
Senior ads are also a great way to acknowledge the accomplishments of your favorite senior, preserved forever in their high school yearbook.
Click HERE to order a senior ad online.
Fill out the online form and send payment to the Eagle Yearbook. Parents or students can drop off payment at the high school main office, the yearbook classroom (room 230), or mail payment directly to this address:
Tyrone Area High School, Attn: Eagle Yearbook, 1001 Clay Ave, Tyrone, PA 16686
All orders made by December 4, 2020, will receive a $10 discount and are GUARANTEED space in the yearbook.
Orders received after December 4 will be cost an additional $10 and will only make the book if space is available. All orders received after December 4 will be filled on a first-come, first-serve basis.
Last year we sold out of ad space so please order early to ensure a spot in the book. Ads are not guaranteed space in the yearbook until payment is received and processed.
Questions? Contact yearbook adviser Todd Cammarata at [email protected]