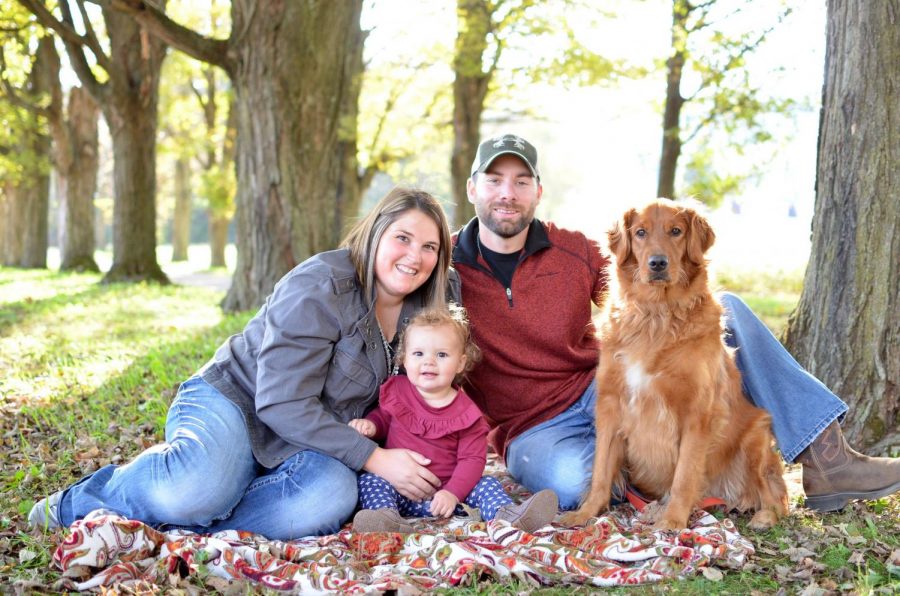 Photo courtesy of Mrs. Tiffany Smith
Choosing the recipient for the annual yearbook dedication is never an easy task for the yearbook staff. It's usually difficult to narrow the list down and agree on a person deserving of the honor, but this year was an exception. When TAHS math teacher Tiffany Smith's name was pitched, it was clear that she would be a perfect choice for this year's dedication.
"We really wanted to recognize someone we all care about and appreciate because we felt that she has done the same for us.  Thank you Mrs. Smith!" said yearbook Editor Lexi Kramer.
Smith has dedicated much of her life to Tyrone Area High School. She is a Tyrone native, graduating from Tyrone in 2006. While a student at Tyrone she was a star basketball and soccer player, as well as active in the ski club, National Honor Society, student council, and Renaissance.
After high school, she attended Saint Francis University in Loretto, PA where she majored in mathematics.
Smith was inspired to study math in college by legendary Tyrone math teacher Fran Bloom.
"Mr. Bloom was a really amazing math teacher. In high school he constantly told me I should be a math teacher," said Smith, "[Back then] I wasn't so sure I wanted to pursue that so I decided to major in mathematics, specifically actuarial science."
However, Smith's career path changed following her junior year at Saint Francis when she became a camp counselor. The job inspired her to go back for her teaching certification and pursue a career in education.
"I really enjoyed working with the youth [at camp]. Becoming a teacher has been the best decision I have made. I truly love my job," said Smith.
In 2010, she graduated from Saint Francis with a degree in mathematics and actuary science and a minor in business. She then earned her teaching certification and was fortunate enough to land a job at her alma mater.
Smith is very dedicated to making the school a better place for students and has been much more than a math teacher at Tyrone.
She has also held many other positions at the school including student council advisor, varsity girls soccer assistant coach, junior high girls basketball coach, and homecoming advisor.
"I think so often that in today's society people talk so negatively about our youth. I see students do amazing things everyday and I thought that student council would give me a chance to encourage more students to serve our community and give back to those around them," said Smith.
Although the club is fairly new, it has been very involved with school activities.
This school year the Student Council ran its own mini-Thon, in support of the annual THON dance event held at Penn State University for childhood cancer.
Smith's favorite part of advising the club is watching the members of student council evolve into compassionate, empathetic, and caring individuals.
"It is a great experience seeing them turn into leaders in our school. I had amazing coaches and advisors when I was in school that taught me life lessons I had carried with me and I think the student council can do the same for our students, teaching them to have a heart for giving," said Smith.
Her students and athletes appreciate all that she does for Tyrone.
"Mrs. Smith was not only an amazing basketball coach, but she was also a great teacher," said sophomore Emma Getz, "She also showed me what it is like to work hard and achieve things that may seem out of reach. Without her dedication, our school would not thrive like it does today."
Outside of school, Smith likes spending time with her family, including her husband Chad, daughter Paisley, and newborn daughter Brynlee.
Along with her family, Smith enjoys hiking, camping, traveling, and supporting her students at Tyrone sporting events.
With the distribution of this year's yearbook put on hold due to COVID-19 restrictions, Smith missed out on being honored by the entire school.
"We are sad that we can't do this in person, but on behalf of the entire yearbook staff we would like to congratulate Mrs. Smith on being chosen for the 2020 yearbook dedication, and thank her for everything she does for our school," said yearbook advisor Todd Cammarata.