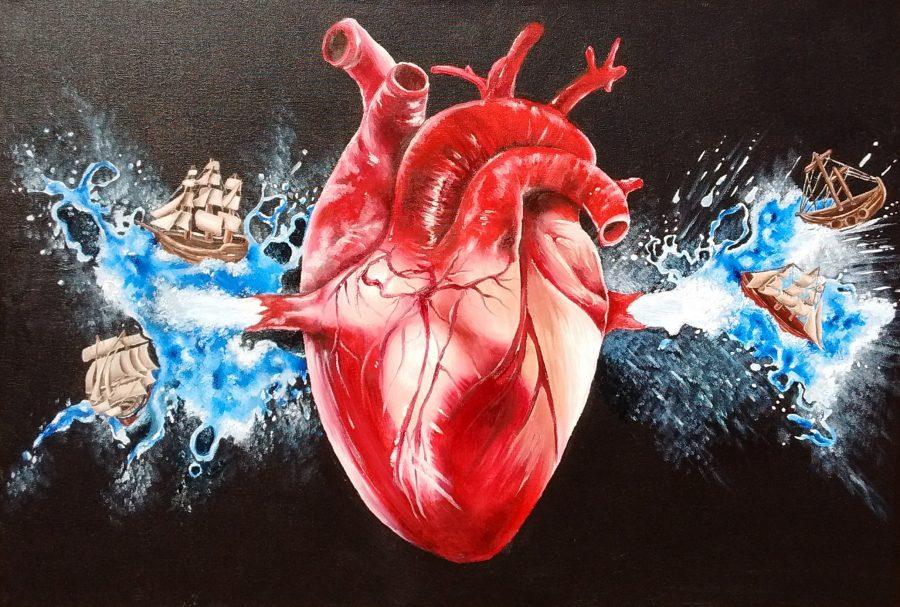 Original art by Scotti Everhart
It's springtime in Tyrone and all of creation is preparing to exhibit a wide variety of intricate patterns and vivid colors. Likewise, students at Tyrone High School are anxious to display some creations of their own in this year's Art Show.
The Tyrone High School Art Department will host the 16th Annual Art Show on Friday, April 22nd from 1:00-4:00 pm in the TAHS auditorium.  There will be a preview of the show in the auditorium lobby at the Spring Band Concert on Thursday, April 21st from 7:00 to 9:00 pm.  The awards presentation will be on Friday at approximately 2:30 pm.
These talented student artists have been planning, sketching and painting all year long and it's now time to show off their work in this highly anticipated annual event.
"I look forward to this event every year," states Christie Taylor, health science teacher at TAHS. "For someone who has little artistic ability like me it's wonderful to see the work of others who have a gift for art. I know it's a great encouragement to the students to have their work displayed for the public."
Junior artist Makayla Ritchey is excited to see the show as well. "The art show is awesome because you get to see how creative and talented all of the other students are. I love it," said Ritchey.
Many look forward to the variety of styles that will be on display. "It always impresses me to see how other students take the same project and interpret it differently with various results," said senior artist Emily Beam.
This year's juror is Peter Frantz, an artist, advocate and educator from Tyrone. Peter's list of credentials include co-founder and CEO of FragilePeace, co-founder of Panzi Foundation USA, an MFA from the Pennsylvania Academy of the Fine Arts in Philadelphia, and is an adjunct professor of sculpture and drawing at Towson University. He has exhibited his own work nationally and internationally.
When asked about the qualities he looks for when judging artwork Frantz says, "Personality. All the skill in the world can't hide a piece of art that lacks something deep of the creator."
There will be approximately 100 works on display at this year's show. Winning entries selected by the juror will be recognized at the show including first through fifth place, eight merit awards and a special creativity award which will be announced at approximately 2:30 pm on Friday.  Awards for outstanding artistic achievements will be presented as well. Viewers of the show will have the opportunity to "play juror" and vote for their favorite artwork from each grade.  These "People's Choice" awards will be revealed on the Eagle Eye News website following the art show.
According to Tyrone High School art instructor Eric Feather, the competitive nature of the art show serves to motivate students to produce their best work. "It also peaks the interest of many who come to enjoy the work as they select their own favorite pieces," adds Feather
Senior Will Lash agrees. "I'm always curious to see what some of last year's winner will come up with and to see how many new award winners there will be," said Lash.
Physics instructor Bryan Gruber had the opportunity to see some of the work as it was being judged and shared his own assessment of the work. "I am especially impressed with the great use of color in the art works this year," said Gruber.
The purpose of the show is to promote and celebrate the talents of the students and communicate the importance of the visual arts to the school and community.
Edward Vancas, Metal Fabrication instructor at TAHS sums up the art show this way, "It's great to see the creative talents of our students on display. Hands on subjects like art are often overlooked when we hear so much emphasis being placed on what are considered the core subjects. The art show gives everyone a chance to appreciate the creative abilities of our students."
The public is invited to attend the awards presentation on Friday, April 22nd from 2:30 to 3 p.m. in the high school auditorium.  The show will be on display for public viewing from 1 to 4 p.m. Admission is free.